Although it's one of the smallest counties in Maryland, Calvert County is steeped in U.S. history. It was founded in 1654 and named after the Barons of Baltimore. It played its part in the Revolutionary War, the Civil War, and even World War II. But history isn't all it has to offer.
The 10 towns that call Calvert County, Maryland home are full of family-friendly activities and beautiful neighborhoods. Are you relocating to the area? Then take a look at our profile of some of these towns and their neighborhoods.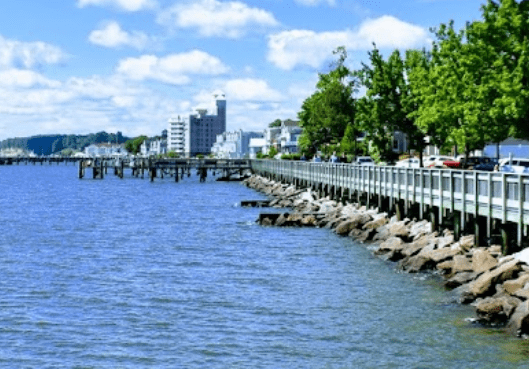 Prince Frederick is the county seat of Calvert County. It was named after Frederick Calvert, who was the sixth Lord Baltimore and the first governor of Maryland. This sleepy little village is home to about 3,000 people. But it offers a wide variety of opportunities for fun.
We love visiting Battle Creek Cypress Swamp. Not only can you enjoy a stroll along the boardwalk through abundant greenery. But there's also a small Nature Preserve that you won't want to miss. And if you need another spot to take the little ones, consider Hallowing Point Park, where they can play on the baseball fields and extensive playground.
Favorite Neighborhoods
Buena Vista
Bownes/ Barstow
Plum Point/ Breezy Point
Solomons
Solomons Island is a great little seaside village and a popular tourist destination. It has a Marine Museum, beautiful gardens, delicious seafood, and lots of fun water-related activities.
Huntingtown
Huntingtown is a very family-oriented place where people know and look out for each other.
Neighborhoods
Chesapeake Beach
Chesapeake Beach is a tourist hotspot! You can go fishing, sailing, take a cruise, or just relax on the beach. Plus the seafood is top-notch!
Dunkirk
Located right on the Patuxent River, Dunkirk is often called a Fisherman's paradise.
Best Communities
Ferry Landing Rd/ Howes Rd
Town Center
Owings
Caves Park/ Stevenson U
Gwynnbrook
Garrison
Deer Park Road/ Dolfield
Winands Road/ Owings Mills Blvd
North Beach
Chesapeake Lighthouse
Rose Haven
North Beach
Holland Point
Saint Leonard
Broomes Island
Town Center
Broomes Island
This city is on the mouth of Island Creek at the end of Route 264. And it's just one of many small villages. There are only a few houses, some stores, a church, and an oyster packing plant.
The water is never very far away. And although it's not a literal island most days. Sometimes, when there's a heavy storm or when the road floods, then it can be said that it's a true island.
Lusby
If you commute to D.C., Arlington, or Alexandria, Lusby is a great place to live! The average commute time to these cities is 42 minutes. It's home to less than 2,000 people, which contributes to a tight-knit community. You can enjoy a variety of golf courses, tennis courts, and baseball fields.
And if you just want to get away for a weekend, try staying at the Cove Point Lighthouse.
Best Place to Live
Cove Point/ Bertha
Drum Point/Chesapeake Ranch Estates
Monterey Rd/ Catalina Dr
If you're in the market for a new home but aren't sure where to start your search, we hope this data can help. Each city in Calvert County has its own unique flavor and characteristics. We hope you find one that's just right for you!